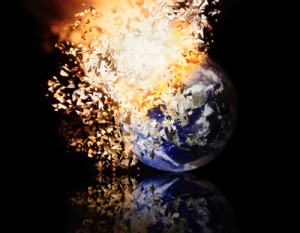 There are so many elements that must come together to make a successful National Three Peaks challenge that it's inevitable that some unexpected problems will occur.
I expected setbacks in training, equipment snafus, logisitical mistakes…
But I didn't forsee my partner needing to pull out, less than two months before the event.
To cap it off, my other walking partner for the Yorkshire Three Peaks warm-up event also had to pull out.
Hmm…
That leaves me the following choices:
1) Cancel the event.
2) Try to find someone else at short notice.
3) Attempt the challenge solo.
Cancelling isn't an option. I've already started collecting sponsorship money for the charity I'm supporting.
And finding someone else at short notice is very tricky given that it needs to be someone I trust intensely and who also has the fitness to tackle this with very little notice. That's a very short list.
Which leaves me attempting the challenge solo.
I wouldn't be the first to do the challenge solo and given that, Scafell Pike aside, the walks I'll be doing are reasonably populous, it's not as risky as you might first imagine.
To put it into perspective, you can still mobile phone coverage at the top of Scafell Pike so it's not quite an excursion into the wilderness.
No, the real risk in attempting the challenge solo is the hours of lonely walking and the need for self-motivation to keep up a good pace.
But in some ways, the idea appeals to me.
Completing the challenge will be a fantastic achievement. Completing the challenge alone, even more so.
So that's where I'm at right now. Getting a little nervous now I'm only one month away, but also very keen to just get started.
My preparation has gone well. I'm not quite as fit as I'd hoped I would be at this point but I think I've done enough to give myself a reasonable shot. I could intensify my exercise for the last few weeks but I'd be risking injury and right now I just want to get to the start date with everything working properly.
I've decided not to try the Yorkshire Three Peaks solo because, unlike the National Three Peaks, which are just straight, up and down walks, it's a bit of a trek into nowhere and probably a bit too risky.
I am, however, going to take a day trip to Snowdon to practice this route, sometime between 6-10 May.
This means that, by the time the National Three Peaks begins, I'll have already traversed 2 out of the 3 mountains.
The rest of the preparation is pretty much done.
I have a few items still to buy (head-mounted torch for the Scafell Pike walk, glucose tablets, sterilising tablets for the hydration bladder and ankle supports to try and counter the soreness I get in my ankles after long walks).
I need to sit down with my driver (AKA – Dad) to go through the schedule and make sure we have the timing planned carefully.
And that's about it.
I'll post again after my Snowdon test run but, in the meanwhile, please consider sponsoring my challenge or passing the link on to others. Simon on the Streets is an excellent cause and, if you haven't already, I'd encourage you to check out their website and learn more about what they do.
National 3 Peaks Sponsorship Page
Category: Three Peaks Challenge
About the Author
David Congreave began working online in 2001. He is now an SEO and Internet marketing consultant, a writer, and an editor. He lives and works in Leeds, UK with his wife, Leanne.
View Author Profile