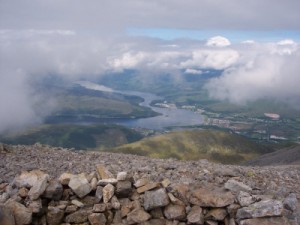 A couple of weeks ago, my client, GrassGreener Group, invited me into a meeting with Clive Sandle, director of the "Simon on the Streets" charity.
We discussed how we might support their "Sponsored Sleep-Out" event on September 13th 2012.
And then Clive mentioned that, next year, probably in May, they would be taking part in the "Three Peaks Challenge".
I commented that my sister had completed this a few months back, and Clive asked whether it was the "Yorkshire Three Peaks" or the "National Three Peaks".
To which I had to confess that I had never even heard of the "National Three Peaks".
Clive explained that it entailed climbing the highest mountain in Scotland (Ben Nevis – 1344m), the highest mountain in England (Scafell Pike – 978), and the highest mountain in Wales (Snowdon – 1085m)…
In 24 hours.
My first reaction was that this sounded completely insane. Climbing one mountain sounds hard enough. But doing three back-t0-back. In 24 hours…
Madness!
And yet… something about the concept awoke something inside me that I didn't know existed.
Given a choice, a multi-pack of McCoys crisps and a good movie generally takes preference over doing any physical or outdoorsy.
I like playing tennis occasionally, but I hadn't played in over a year.
And yet… I couldn't shake the idea that this is something I really want to do.
Maybe it's because I've reached an age where I feel the need to re-invent myself in some way.
Maybe it's because I've been reading Brendan Burchard's new book, "The Charge".
Or maybe it's because I can glimpse the satisfaction I would feel if I completed the challenge and I really, really want to know what it would feel like to achieve something that, right now, seems almost impossible.
A couple of weeks have passed and I've spent some time trawling websites on the subject. As well as reading the book "The National 3 Peaks: Taking Up the Challenge".
It still sounds insane.
But I think I'm crazy enough to give it a try.
There are some obstacles to overcome however:
I've never done any serious mountain, or even hill walking, and I have no idea how to navigate.
I'm about two stone overweight (maybe two and half).
My diet sucks.
I'm a writer and TV/videogame enthusiast, which is about as sedentary a lifestyle as you can imagine.
I currently do no exercise.
I have narcolepsy (which means most of the time I'm running on little or no energy).
The good news is that have 8-9 months to prepare.
Time to get organised…

Category: Articles, Three Peaks Challenge
About the Author
David Congreave began working online in 2001. He is now an SEO and Internet marketing consultant, a writer, and an editor. He lives and works in Leeds, UK with his wife, Leanne.
View Author Profile