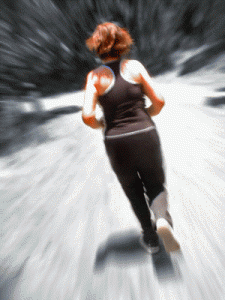 If I'm going to be ready to tackle the national Three Peaks challenge next year, then I need to do a lot of preparation and a lot of training.
In the first article on this subject (Three Peaks Insanity) I identified the obstacles I'm facing. The following is how I intend to overcome them:
1) I've never done any serious mountain, or even hill walking, and I have no idea how to navigate.
The simple solution is to find someone to teach me navigation and then get out there and start walking. However, I intend to do at least 2-3 weeks of exercise before I attempt any kind of hill walking.
2) I'm about two stone overweight (maybe two and half).
If I start a decent exercise regimen then I'll probably lose some weight, but losing weight is actually less important to me than increasing my strength and stamina.
3) My diet sucks.
This aspect seems to me to be at least as important as exercise. I need a more nutritious diet and I want something I can stick to long-term, even after the challenge has been completed (thinking positive, see). For this reason I don't want to completely cut out all treats, otherwise I'll get fed up and probably end up quitting.  So here's the plan:
Limit Treats: Chocolate, biscuits, etc, are ok, as long as when I do indulge, I have just one. In other words, one biscuit, and not half the packet.
No Crisps: I can't eat crisps in moderation, so I'm going to cut these out entirely.
Limit Bread: Maximum of two days per week.
More Fruit: Aiming for three portions a day (one of these can be pressed juice).
Vitamins: I know there's some controversy over how effective supplements are, but I think it's worth trying. I'm going for a multi-vitamin and calcium tablets (I'm allergic to milk, so my calcium intake is fairly limited).
Oily Fish: Aiming for 2-3 portions per week.
Less Alcohol: Weekends only, and maximum of two beers or half a bottle of wine. No spirits (I tend to mix them with sugary soda).
4) I'm a writer and TV/videogame enthusiast, which is about as sedentary a lifestyle as you can imagine.
5) I currently do no exercise.
I'm taking up tennis again, at least once per week.
I'm also going to use a cross-trainer in 40 minute sessions (the length of a TV episode to keep me distracted from the pain). Initially three times per week, but increasing to daily after 2-3 months.
To make the cross-training sessions more useful I'll also be increasing the tension on the machine over time to help simulate the extra exertion that will be required walking uphill. Apparently working a cross-trainer in reverse is also effective for strengthening the muscles used when walking downhill. That means pedaling backwards, not facing backwards, natch!
I'll also be planning at least one walk per month to practice walking ascents (and descents).
6) I have narcolepsy (which means most of the time I'm running on little or no energy).
This is a tricky one. The severity of the condition comes in phases; if I'm in a bad patch when the challenge comes around this is going to hit me hard and make the whole thing at least 50% more difficult.
There's not much I can do about this, but better health (through eating and exercise) may help to reduce the length and severity of the bad spells.
Plenty to get stuck into then.  I'll post details of my progress as I go along, but if you have any suggestions regarding the above, please post them in the comments below.

Category: Articles, Three Peaks Challenge
About the Author
David Congreave began working online in 2001. He is now an SEO and Internet marketing consultant, a writer, and an editor. He lives and works in Leeds, UK with his wife, Leanne.
View Author Profile